I had a good six straight hours of sleep last night and it felt good to wake up at 6:30 a.m. Breakfast was eggs and a orange smoothie. Their oranges taste different here. Not bad, just different.
We were waiting to hear back from Getachew about meeting the kids grandmother so we really did not have any plans for the morning. So we kind of took it easy. I got on the guest house computer to check email and post to the blog – took me 2 hours to accomplish really very little. We made contact with both Getachew and a family friend of Grandmas – we think perhaps the same friend that brought the AWOP representative to the kids house over a year ago. They are going to pick us up at 3 p.m. tomorrow and take us to go meet the family. (We're not sure who that is besides Grandma.)
We decided that since we had no other pressing needs for today to see if we could go back to Hope for the Hopeless, even if it was just to play. (We had already made plans to have a party and Bible lesson on Saturday.) We arranged it with Fekadu for 3 p.m. when the kids are back from school.
One of the other adoptive families, Krista, Jeff and little Eli, were leaving today to return home and so the guest house did a traditional coffee ceremony for them. They spread long grass on the floor and bring out a small table, small coal burning stove and incense. They also make popcorn out of maize and serve that in a basket. It is very good – sweet and salty – a little like American kettle corn but not quite as sweet. Over the stove they    first roast the fresh coffee beans for 5- 7 minutes. They then take some of the coals and start to burn the incense. The coffee is ground (they actually take it and do it in the kitchen in an electric grinder 🙂 The grounds are put in the pot/pitcher w/ water and it is put on the little stove until it boils. The coffee is then poured out for each of the guests. They had sugar but no milk and so I wasn't sure how I would like it, but it was REALLY good.
Jen was feeling a little queasy today – not sure if it was something she ate or perhaps still the altitude adjustment. So they decided to stay behind so just Mark and I went. First we picked up Fekadu at the Drop in Center and we saw my friend Mary that I told you about yesterday. There is another amazing story that evolved out of our short 10 minutes but I will have to share that another day when I have fully processed it. We got to the orphanage about the time the kids were getting home from school. We dug into the big black bag and brought out the games we had brought – Memory, Connect Four, Battleship and a couple of puzzles.
Akki helped us explain the concept of Memory to them and then I took the Connect Four and set it up. They know Tic-Tac-Toe so they caught on pretty quickly to that. Once I had them going in that I went over and helped one of the older girls who was working on a puzzle. That quickly grew into a crowd and they were so excited when it was finally done. There was much cheering and clapping.
Even though we only had about 90 minutes to spend there, we had such a blast. The kids all asked about Dustin and Jen and then learned "See you tomorrow" when we had to leave. Coming and going is quite an ordeal as you get a handshake and hug from each of the 36 children. Some kisses and "I love yous" too.
Tomorrow, besides the Bible lesson and party we had planned to play football (soccer) with the kids. They team up the kids from the orphanage against the kids in the drop in center. Akki talked to a few of the older boys and they told him that they have the footballs but their air pump is broken so they asked if we could get them a new pump – and also gloves for the soccer goalies. So we started our shopping list. Akki suggested a couple of volleyballs for the girls.
We asked Fekadu what would be the best thing to do for the kids – pizza or something else. We wanted to do something that would be a treat, but would also be a wise use of the money that everyone so generously donated. He explained that Ethiopian Christmas is coming up in two weeks and it is customary to have meat and so he would like to use some of the money for that. They also try to buy each of the kids one new complete outfit at Christmas. Clothes and shoes are expensive here – mostly because they are imported. It costs $30 to buy an outfit for the kids with shoes being the most expensive part. To buy one new outfit for each child they need $1410. We have about $800 of that to give him, as well as some clothes that we brought over.
So the final decision was to do cake and sodas as a treat for the kids tomorrow, as well as the sports stuff. We can't wait!
Update: The internet was not working Friday night or Saturday morning, so I realize a whole day has gone by since this post that I still need to write about. I will tell you that we meet Grandma today and it was a wonderful visit – we learned a lot about the kids. More to come!!!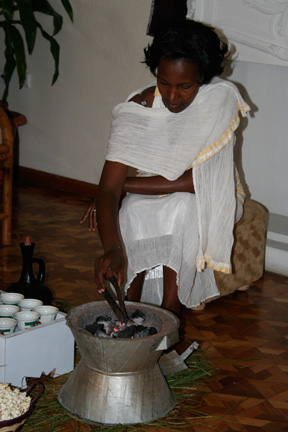 Coffee Ceremony