It was a pretty fitful night of sleep and I kept waking every two hours. I think Mark only slept a couple of hours total – my tossing and turning did not help, I'm sure. When I finally got out of bed at 5:45 the other 3 were already up and had started coffee. Jen was feeling much better and had made plans to go with us.
We had waffles for breakfast and then Akki arrived to take us to see Hope for the Hopeless. We first went to what is called the Drop In Center. This is where they first bring the children when they pick them up off the streets. Samson is the staff member responsible for identifying the children and working with them to identify their psychological needs and start the healing process. There were about 12 kids there to greet us when we pulled in the gates. They all want to shake your hand and hug you and tell you their name. So many that it is hard to remember. We took some pictures – which they love – they want to see after you take each one.
Fekadu showed us around the small facility which includes a chapel, a couple of office, a few bedrooms and kitchen. We brought our three big bins/duffels of donations into his office to be sorted later. Next we all drove out to see the construction of the new facilities. The 45 minute drive took us outside Addis into the beautiful countryside – so peaceful and brought with it a whole new batch of sites like women carrying firewood piled high on their backs.
We spent about 45 minutes looking at the two dormitories they are building and assessing the current needs to finish. If they had the money they needed, they could be done in 2 months time they tell us. We prayed over the land and those buildings before we left – that God might do a mighty work on that place.
We then drove back into Addis, stopping to eat lunch at a restaurant called "Island Breeze", run by a man from California. Good pizza and burgers. It is customary to buy lunch for your guide and drives and, of course Fekadu. Lunch for 8 of us came to $42 – amazing! The same meal back in the states would easily have been $80-90. We even ended up with leftovers which Jen later handed out the window to a woman who came up to the van begging.
Back at the Drop In Center the children had left for afternoon school. Fekadu took time to show us the detailed files they have on all the kids and tell us some of their stories. One beautiful teenage girl, perhaps 15, was raped by 5 men, beaten and found unconscious in the street. She was brought into Hope where they thought they would loose her. After much prayer she was healed and this afternoon I cried tears of awe as I watched her stand in the sun, face lifted up to the heavens, singing praises to her Savior. Hers is but one of many amazing stories of changed lives – we certainly serve a mighty God!
We had the privilege of praying over Fekadu and the work he and his staff are doing there. He pours his whole life into those kids – and it is not just about rescuing them from the streets, it is about showing them the love of Christ.
After sorting through the donations we loaded all the toys and games into one bag and drove to the Girls Orphanage which houses 16 girls from age 5 to 17 and also acts as the center where the boys come to eat and study before they walk about a block up the hill to the Boys Home where they sleep. Again we were greeted by EVERY child with a handshake and a hug. Some would ask you your name and repeat theirs back to you. They loved having they picture taken and two of the smaller girls attached themselves to me pretty quickly.
We brought with us a huge stack of pictures that Kim and Brooke had taken on their trip to Ethiopia in May. Fekadu handed them out to the children in the picture and they were so excited. They pointed and squealed and showed their picture to the others. We then handed out some of the toys we had brought – jump ropes, frisbees, toy cars, bubbles, candy and rocket balloons. The kids had a blast. Mark proceeded to teach them how to play Frisbee golf.
After the excitement died down, Fekadu gathered them and let us introduce ourselves. He told them that we had planned a fun afternoon with them with a Bible lesson and some games. It was decided that Saturday afternoon would be a good time to do that. We also plan on having a pizza party for them but that part is a surprise.
They sang us a beautiful song and a little boy named Zelam prayed. They have nicknamed this boy, who at about 8 years old preaches and prays, "Little Pastor".
We left with promises to return soon and have some more fun. I think we all could have stayed for several more hours but they had school work to do and we had dinner plans.
Akki arranged to take us, as well as one of the other couples staying here, to a traditional Ethiopian dinner at a cultural restaurant where there is Ethiopian singing and dancing. The food was wonderful and the dancing cannot really be adequately described with words. The things they do with their bodies are amazing. There will be a YouTube video coming after we get home – starring Akki 🙂
So I am turning in late tonight – maybe finally I will be on a "normal" schedule.
We are not sure what the plan is for tomorrow. We are waiting to hear back from Getachew about meeting the kids grandmother – perhaps also some more shopping in preparation for Saturdays party.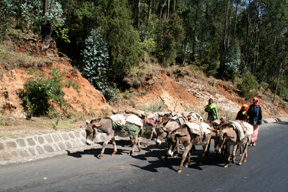 Driving up the countryside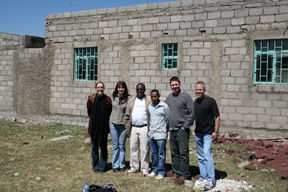 Standing in front of the boys dorm with Fekadu and Henok, the construction project manager.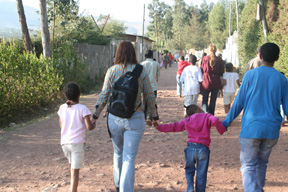 Walking to the boy's home with our new friends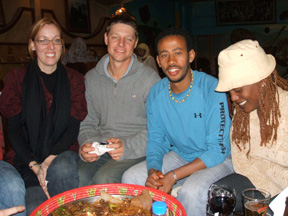 Dinner out with friends – Dustin, Jen, Akki and his girlfriend Rhinna.