We had a nice relaxing morning at the guest house and repacked much of our stuff for check-out tomorrow. We came with 6 bags and we are down to 4 which is nice (even with my shopping). The staff at the guest house made us a traditional Ethiopian meal for lunch – injera, lentils and potatoes. It was very good. We have found that the injera (which is like their bread but flat like a thick spongy tortilla) fills us up very fast.
Aki was able to find everything we needed for the party – two nice air pumps, two volleyballs, even an American football, gloves for the goalies and cupcakes and sodas for 70 people – all for about $110.
The plan was for Dustin and Jen to go to Hope with Akki and when we returned from our visit with Grandma we would call Akki and the drivers would come back and get us. The orphanage is only about a 15 minute drive from the guest house.
Diriba, the family friend, arrived at 3 along with another gentleman who is a family friend. They have their own little 4 door sedan. As we were driving we began to ask him some of the questions we had – and I'm so glad we did. Turns out that they went to elementary school with Wendemagegn and Beza's father and were good friends. They also worked together.
We learned that Wendemagegn and Beza's father was a surveyor – land, roads, etc. He was apparently very sharp in school and at grade 10 was taken out of regular school and put in a technical school. They said he was the best surveyor in Ethiopia. He met his wife at the government office where he worked. They got married when they were about 30 and 25 approximately – they weren't really sure.
It was about a 30-40 minute drive to Grandma's house. Someone came out to open the gate and then as we walked into the house, Grandma was there and greeted us with a handshake and then kissed each side of the face twice as is tradition. She is smaller than I would have thought from some of the videos we had – they made her seem very tall but I would say she is about 5′ 4″ and very beautiful. We learned she is 67 years old which is really amazing.
The five of us sat in her bedroom and talked for awhile.
I gave her the photo album I made and we briefly showed her the pictures. She then showed us that she still had one of the albums that we had sent the kids – it was the one we had sent in August that included pictures of the 3 of them together. I asked if we could take pictures of the pictures she had on display – the mother, father and two of the kids when they were younger. As I was doing that she got into her closet and pulled out about 4 more small photo albums filled with pictures – their father and mother, wedding pictures, a few pictures of the kids when they were toddlers and pictures from Beza's last birthday party. I snapped pictures of all of them and we now have about 150 family pictures for the kids. What a gift!
They had prepared popcorn and coffee for us and we drank that before we left and we took a couple of pictures with Grandma before we left. We actually held it together very well until we had to leave. It was hard to drive away with her standing outside the gate.
Diriba took us back to his house which was very nice. We met this three children and his wife was cooking a big traditional dinner for us. The dinner was wonderful – mutton, shiro, cabbage and a traditional dish that is popular in the Oromo region that their father is from.
Dustin and Jen had a GREAT time with the kids. We are so sad that we missed it but realize that this was also important. We have decided that we will go back to the orphanage for a bit on Sunday afternoon so that we can see the kids one more time. I don't want them to feel like we broke a promise to them by not being there today. The snacks and sodas were a big hit as well as the Bible lesson that Jen prepared on how to evangelize and share Christ. They made the colored bead bracelets with the kids so they can use them as an tool to evangelize to their friends.
Then there was the great football rematch. The kids walk about 4 miles to a big field and already have set teams that they play on. Apparently last time the orphanage kids won but this time the drop-in center kids one. I can't wait to see the video that one of the boys shot of the game.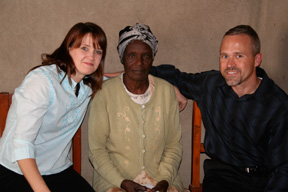 With Grandma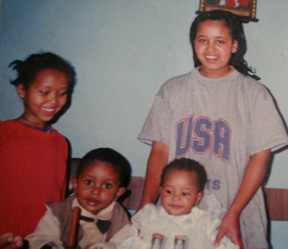 One of the baby pictures we got of the kids.