Today was the big day. We woke up around 7 – at least I did – not sure what time Mark was up. I actually slept really well with no anxiousness…until I woke up that is. We got dressed in our very cold hotel room (no heat and a 2 inch gap underneath the doors that open to the outside). We walked down two doors to the restaurant that is attached to the hotel. Breakfast is included in our room fee. They had an omelette station which impressed me. Unfortunately Mark's omelette wasn't really cooked all the way through.
We had thought that Aki might be by in the morning to bring us a card for Mark's phone (we returned the one we had last week to the guest house). Other than that we were waiting for the driver to pick us up at 10:30. He, Dawit, arrived around 10:40 and we headed over to the orphanage. I cannot begin to describe the feeling. I actually was less emotional than I thought I would be – mostly I was trying not to lose my breakfast – major butterflies. When we pulled into the compound (they pull the car into the gated courtyard) there were about 20 kids or so in the courtyard. A group of younger ones were sitting around one of the nannies. They were reciting some things and she was doing a few of the girls hair. There were a few older girls – faces I recognize from other Hope families. We scanned the faces but didn't see Wendemagegn or Beza.
They led us into a room with a couple of couches and chairs and we just waited. We didn't know if they were just in another room or what. Dawit told us that Rahel would be there soon. What we didn't realize til later was that she actually had the kids with her and they had gone to do the medical exams (had to draw blood, poor babies). So we ended up waiting probably an hour and 15 minutes before the kids arrived. We heard the taxi and saw Rahel come in the gate but they walked the other way before coming around and in the room.
They were very quiet when they came in the room, pretty shy and looked nervous. We gave them each a gentle hug and they came down and sat on the couch with us. It's pretty difficult to make small talk, complicated by the fact that other people are kind of staring at you and watching 🙂 Rahel started on some of our paperwork and we chatted with the kids a bit. Then a man and a woman came in and greeted the kids. We had no idea who they were and there was lots of talking in Amharic and NO translating. I finally asked if they were relatives or what and we were told that they were neighbors of Grandma. The had brought a sucker for each of the kids and a t-shirt with the Amharic alphabet. We took some pictures of the kids with them. They also handed Wendemagegn something that was later handed to us and while the kids were eating lunch we looked at it. It included some pictures of the couple, their address and phone numbers as well as a letter and two cards that had pictures of Jesus, Mary, St. Michael and another saint.
One of the other staff and the kids took us around the house briefly while they prepared our coffee ceremony. We snapped lots of pictures with the kids and their friends. The girls especially seemed to have bonded (Sandee and Kathleen – those are your girls I'm talking about).
While we had our coffee ceremony the kids went to go eat lunch. Beza brought hers back in and ate with us. Wendemagegn, we learned, had gone into the classroom to do an exam. The older kids get a couple hours of school there at the orphanage. He proudly showed us his two papers – 20/20 on both. Then Beza did hers and she scored the same. They'll fit right in the Gumm family 🙂
The kids said goodbye to everyone and they were trying to find a different pair of shoes for Beza as she was wearing one of the other girls pairs of shoes. Unfortunately all that was left in the tub was smaller sizes. We explained that we had shoes at the hotel and Beza was okay with leaving in those shoes as long as they got back to the orphanage.
On the way back to the hotel we stopped and Mark bought a football (soccer ball) – Wendemagegn chose yellow – while I waited in the car with the kids. I think the first thing that grabbed their attention when we got back to the hotel room was the Story Reader I had brought with 5 or 6 books. They put each book in and listened as it read it out loud. Then we took the football and jump rope downstairs. The hotel doesn't have any sort of grassy area but fortunately part of their paved parking lot was deserted in the middle of the afternoon and it made for good soccer playing. I'm telling you, Wendemagegn has some mad skills! Beza is great at the jump rope too. Mark even taught them both a little basketball dribbling and they had fun trying to get it away from each other. We played for about 30 minutes before going back up to the room – mostly because we were thirsty.
When we got back up we had a drink and snack. I don't think they were really keen on the Chex Mix granola bars (I'm not really either) but they saw the bread and each had a slice of bread with peanut butter.
The rest of the afternoon we put together small puzzles (they love those – have done them about 3 times each now), played with K'Nex and colored some. Wendemagegn seems to really enjoy the mazes and other "worksheet" type pages in his coloring book. We ordered up pizza and french fries (which they call chips) from the restaurant for dinner. Fed all 4 of us for $12 🙂
We gave them baths after dinner – luckily the water was a little warmer. Wendemagegn LOVED his bath especially. The kids are both snuggled in beds and we can hear one of them snoring 🙂
Tomorrow is our embassy date. We're not sure exactly what time so I supposed we'll just be ready to go about 9 a.m. Both kids have a little bit of a cold – Wendemagegn's is worse.
Thank you for all of your prayers on our behalf – we are doing well!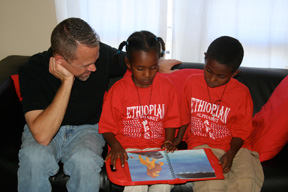 Listening to the Story Reader