We have safely arrived in Addis Ababa and boy are we wiped!
We had to do some minor shuffling of weight in our baggage, mostly to get our backpacks to weigh less. In the end the gal at the airline desk was very nice and got us on the plane without having to leave anything behind.
As we were boarding the flight we quickly realized that while we were sitting right behind Dustin and Jen, unfortunately we were in a non-reclining row. That was not going to be fun. Yet God decided to bless us with about a half full flight and so when everyone was on we quickly snagged an exit row. So we had two seats together (and just to) with more leg room than we could ever need. Mark and I were both able to get about 2-3 hours of sleep. Dustin and Jen, despite being able to spread out in two seats each, were not so lucky. We kept the seats us from Washington D.C. until the stop in Rome when we had to return to our original seats because of new passengers getting on board. We traded around and Jen and I sat together and watched a movie while the guys yaked behind us.
We were about an hour late coming in and by the time we got our entry visas, claimed our bags and exchanged some money we were exhausted. I have never been so glad to see my name on a sheet of paper. Our translator Aki met us with flowers and steered us toward the van (think VW bus) where they loaded our 10+ bags and then drove us to the guest house.
So many wonderful sights to see as we drove through the city. Overall very clean.
It was about 11:30 when we arrived – we got shown to our rooms, given a huge bottle of water and just had to wait a bit before lunch, which was pizza.
Jen is already out like a light…the rest of us are waiting turns to shower. The big debate is whether or not to try and stay awake till dinner or just to go to sleep now.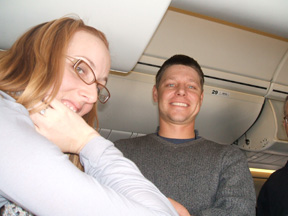 "Get me off this plane"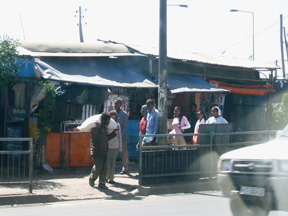 From our cab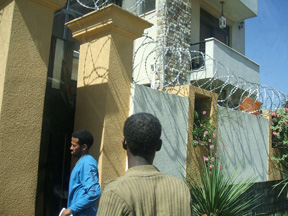 Arriving at the guest house. The guy in blue is Aki, our translator.