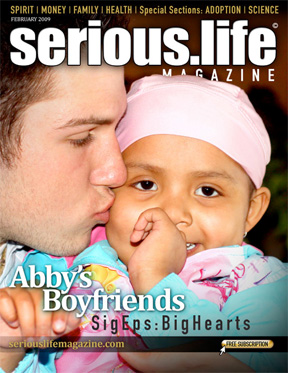 I honestly can't remember how I found out about the Riggs familly – I think a link from another adoption blog. They are a beautiful family with seven kids, 3 of whom are adopted (2 from Guatemala, 1 from Ethiopia). Four year old Abby was diagnosed with Leukema in July and this family has been such a blessing to watch as they struggle through this illness and rely on God. They are an incredible witness.
Brent Riggs publishes a very cool online magazine called Serious.Life.Magazine. They just published the February issue today, and I am in their Featured Blog Directory. It's a fantastic magazine and I know a lot of my readers would love to check it out.
The magazine includes a lot of great content from bloggers you'll appreciate, as well as great features, photos and other content.  The magazine gives away a bunch of ads to charities and ministries.  Besides great articles on interesting people, there is a lot about family, adoption, personal finance, spiritual life, humor… all sorts of "life" topics.
Again, the subscription is free, and I know you'll enjoy the magazine, so take a minute to check it out and sign up to get future issues.  www.seriouslifemagazine.com