We arrived safely in Washington D.C. this afternoon. We had a little bit of reshifting of the baggage when we arrived at the counter this morning. We got a stickler on the weight limit. One bag was over 1 lb, one by .5 lb and one by 2 lbs. We shifted some weight to the carry ons which was fine for United but we're praying that Ethiopian doesn't weigh them tomorrow because they are over by a couple pounds. Otherwise we'll have to dump some snacks. Or Mark offered to tie his shoes together and wear them around his neck 🙂
We didn't get to sit near Dustin and Jen on the plane but met them for dinner at Chili's near their hotel. We decided against trying to get into the city so that Jen wasn't overdoing it. Instead we had a really LONG dinner and just had a great time visiting. There were many discussions that revolved around sleep and when we should sleep and whether we should take the sleeping pills we have and if so, what time, etc.
We got back to our hotel room just in time for the cowboys game so Mark is a happy camper.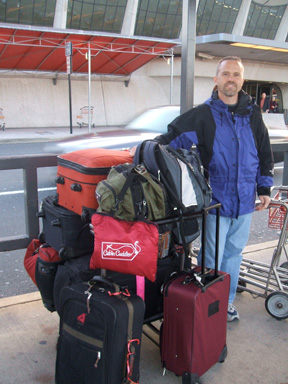 This really doesn't seem to do our luggage pile justice, but here it is.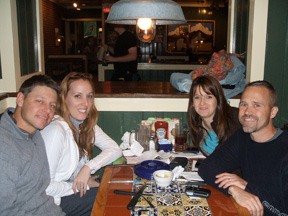 Dinner at Chili's.